During the five minutes I'm not painting cabinet doors and drawers, I'm setting down my roller and brush and I'm thinking about the other pieces to our kitchen reno puzzle (ps I finally forced myself to start a puzzle this weekend as a way to unwind).
We have quite a lot decided on for our kitchen that my heart has been set on since before we officially bought our house….
But there are still a lot of final pieces left into question, like…
A new faucet
A new sink
New countertops
Island legs
How big to make our island
To paint the ceiling or to not paint it
Add a floor rug
and I'm sure many more to pop up as we continue on this adventure.
To refresh your memory, here is what our kitchen started looking like when we bought our place.
Here is what it looks like after we moved in…
Here is what it looks like currently…omg mess!
And…here is what our goal is…
Ok, now that we are all on the same page, This past week or so, I've been doing some shopping and research regarding a new faucet, new counter tops and new sinks. I literally was at Home Depot 5 times within 4 days, I'm obsessed. And Menards twice this past weekend.
I'm currently undecided on between two kitchen faucets, this Kohler one and the Moen one below. The both look pretty similar, and both have a great warranty – and both have great reviews. So now I just have to decide. Anyone want to help me decide?

Now onto counter tops! Looking at our neighborhood values, it really doesn't make sense to install granite or a solid surface. We just won't get that money back when we go to sell sometime down the line. So because of that, we are considering laminate + it works with our budget greatly (bonus!). The only concern we had with laminate was we really wanted an under mounted sink. I can't stand how the top-mounted ones look. We assumed the only way to do this was to go the granite/solid surface route, but after doing some research, we think we may have found a way to go with laminate and an under mounted sink.
I found a blog, where the author showcases an undermount quartz sink from Karran sinks paired with laminate. We found a laminate we like that resembles concrete and are hoping to go with the same quartz sink. They also under mount acrylic and stainless steel – but we were just concerned with the longevity of those items and really loved the dark quartz color available. Doesn't it look amazing?! So fingers crossed this can happen for us too and the price in the end is less than the solid surface + under mount sink.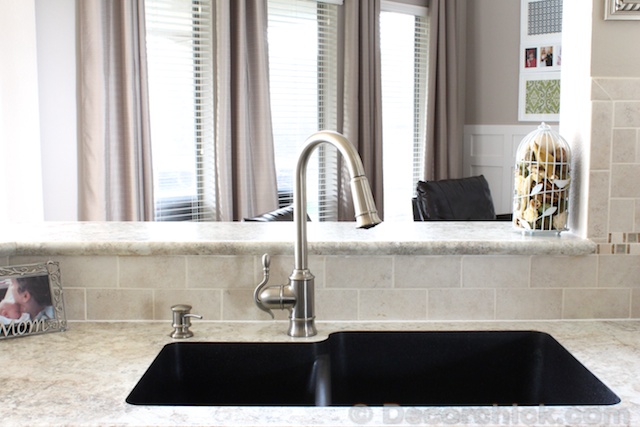 Hopefully the next update on our kitchen will include the finished, painted cabinets – but those babies are taking FOREVER!